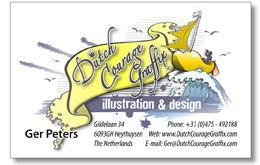 ILLUSTRATION AND DESIGN BY GER PETERS
'Dutch Courage Graffix' is the name of the illustration and graphic design studio of Ger Peters. 'Ger' is the Dutch equivalent of 'Gerard' or 'Gary'. 'We' are a one-man operation and we work on a freelance basis.
Scroll down to the bottom of this page for our complete contact information or simply click the image to the right to download and print our business card as a pdf-file.
If you're looking for information on how to have us create a custom illustration, logo, lettering or design for you - or if you would like to gain permission to use one of our existing designs for your own purposes, please read on.
COMMISSIONING ARTWORK & DESIGN
Commissioned work is very welcome! Without any obligations, just shoot us an E-mail message with a clear description of what exactly you're looking for and how you intend to use it (briefing). Final artwork will come in digital format only by the way; we're no longer offering original drawings or paintings.
All requests will have our serious consideration but we've learned from experience that a certain amount of 'affinity' with the subject will help to obtain the best possible end results. When we're confident that we will be able to create a design that will meet all expectations, we usually come up with a preliminary pencil sketch first. This sketch will be scanned into the computer and send back to you, along with a price quotation for producing the final artwork without any further obligations.
After acceptance of our quotation, the original sketch will typically get kicked back and forth a couple of times while making further modifications until everybody is perfectly happy with the general outcome. The agreed-upon design is now considered to be 'final'. After establishing the final sketch, we will proceed with the creation of the actual artwork. Creating the final piece is often a labour-intensive process. This implies that you will be charged extra if you want (major) design changes at this stage. Typically, we will be consulting you a number of times while working on the final piece to further discuss certain details, so there will always be an opportunity for you to have a fair amount of control over the outcome of the final piece.
After completing the design, we will usually shoot over a low-resolution preview image for your final evaluation and approval. After approval, we'll send an invoice and you will have the opportunity to complete your payment. After we have received full payment, we will deliver the high-resolution files and all file formats required. With that, we implicitly grant the usage rights for the use of the artwork as well.
If there is a substantial amount of time and/or money involved with your specific project, we may have to ask you to pay 50% down. We accept bank transfers and PayPal.
Business clients and/or repeat-customers will usually be billed upon delivery of the final artwork as is customary in the industry. For substantial and long-term projects, we usually draw up a formal Confirmation of Engagement. For explicitly granting specific usage rights or licenses with regard to specific designs, we optionally draw up a licensing agreement and/or royalty agreement.
For all projects and commissions, the 'General Terms and Conditions of Dutch Courage Graffix' apply to all agreements between you - the client, and our studio. Please take a moment to read and/or download our General Conditions here.
GAINING PERMISSION TO USE EXISTING ARTWORK
In all illustrations and designs on www.DutchCourageGraffix.com and on our profile-pages on social networks and suchlike, intellectual property rights are vested. That means that all our designs are protected by international copyright laws. If you would like to gain permission to use a specific design for your own purposes, you need to ask permission beforehand. Asking our permission beforehand is not the same as asking our permission after the fact...
For commercially acquiring reproduction rights with regard to specific designs, please contact us about establishing a licensing and/or royalty agreement. Non-profit organizations may be granted permission to use specific designs free of charge provided that they represent policies we support. In catering to publishing houses and for certain other commercial usages, we usually charge standard fees.
CONTACT INFORMATION